Knowledgebase
How to request a fund transfer between accounts?
Posted by Chat History on 05 June 2023 08:47 AM
Transferring funds between your accounts is a very easy and free-of-fee procedure at FxGlory.
Here are the steps to take:
First Log in to your Client Cabinet, using your registered E-mail address and password. (Remember to keep your password safe and do not expose it)
After that, from the "Finance" header, choose "Transfer".

Here, in Section 1, enter the source account number.

In Section 2, transfer type, you can choose between "External transfer" and "Internal transfer".
If you wish to transfer funds between two of your own trading accounts, choose "Internal transfer";

if you want to transfer funds into someone else's account, choose "External transfer".
In Section 3, enter the account number in which you wish the funds to land.

In Section 4, which is the last section you should fill in, enter the amount that you want to transfer.

Finally, click on the "Submit" button.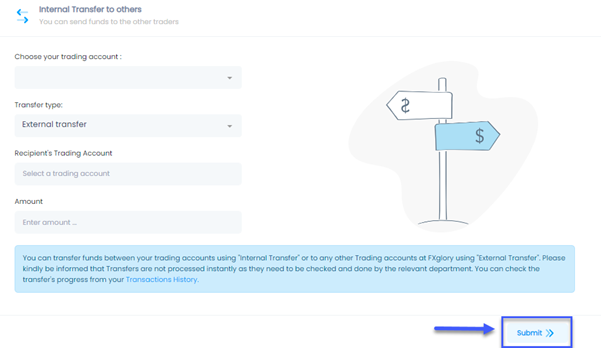 *Note that the processing time of finalizing an internal transfer may vary from 1 to 24 hours, based on the workload of the day; however, the request is finalized in the very first few hours.
---