Knowledgebase
How to verify my Credit/Debit card?
Posted by on 19 November 2014 01:50 PM
To make a deposit or withdrawal using your debit or credit card, the initial step is to verify your card by logging into your Client Cabinet. This verification process is necessary to ensure the security and authenticity of your card details.
So, to verify your card follow the step below:
Log in to your client cabinet, using your registered email address and password. (Remember to keep your password safe and do not expose it.)

Choose the" Credit Card" button in the "Finance" tab.
Scroll down the new page till you see the screen "Credit Card" section.

Press the" Add" button. A window will pop up, fill the blank sections with the holder's name and the card number.
*keep in mind that the first 6 and last 4 digits of your card number must be visible, and the remaining digits must be hidden. The expiration date as well as the cardholder's name must be visible. Also, using any graphic software and cutting the edges of a card is not allowed.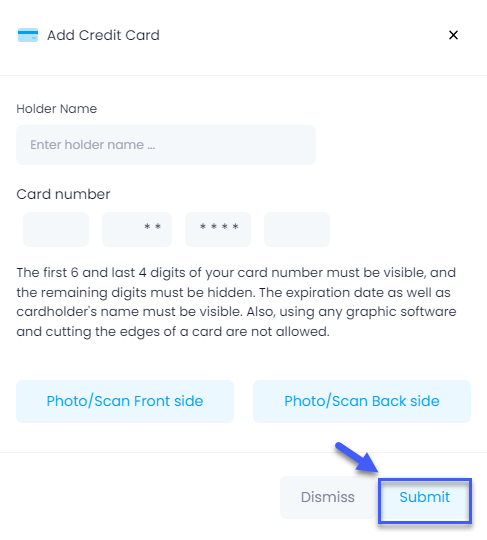 To complete the card verification process, kindly scan both sides of your card and upload them in the designated field. Once uploaded, simply click on the "Submit" button to proceed.
In case you don't find the answer for a question that interests you in this section or in the Knowledgebase, please contact the Client support department via live chat or request for a callback.
---